Showing posts tagged fringe
oh, take a look at this dreamy dress. now, why am i living in a country with no h&m? that's just sad.
i love this photo because it's full of diy inspiration: the lace top and the fringe necklace are really, really beautiful and are almost begging to be diy-ed, aren't they?
check the original site for a few more pictures and see how truly amazing the top is (it has only lace in the whole back side of it).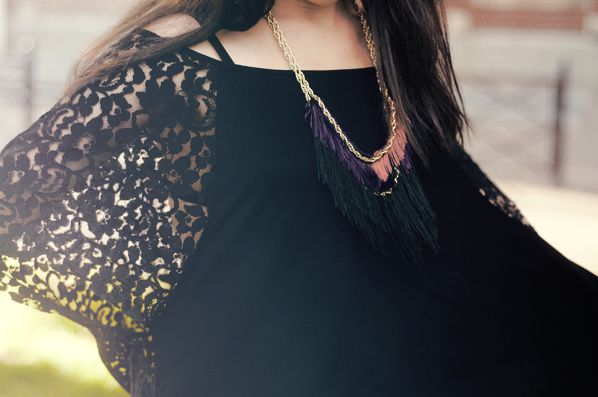 DIY Fringe Chandelier | The Sweetest Occasion

Another chandelier project, I know, but this is so fun! And easy to make. You could go for all one colour like the one pictured here, or you could go 'ombre' and go from dark fringe to light fringe. The beauty of this is that you could make it as small or big as you like!
i've been trying to grow my fringe for a couple months now, but everytime i see a picture like this, i get the urge to cut my hair once again (and i do mean 'cut my hair', since i am the one doing the actual cutting most of the times).
to cut or not to cut?
Jersey Fringe Jacket by I Heart Norweigan Wood | Let's Go Shopping

Category: Ultimate Splurge! ($149)

Fringes aren't just for heads and cowboy boots. Now you can rock the fringe on this stretchy, comfy and above all fashion-forward jacket in this looks-good-on-everyone heather grey colour. Team it with your darkest jeans and blackest boots and your fringiest fringe. Ain't no one gonna tell y'all you don't look good!
i love the idea of adding a fringe to a top in this same way. this looks like a plain fabric fringe, but if one is feeling a bit extravagant, one could always replace it with a beaded fringe, i guess.